A few weeks ago, I shared a perception problem with our church. I was made aware of the issue shortly after I arrived, and it was one that had been talked about by the Elder Council off and on since the church left the denomination. This body rightly chose to remain faithful when the denomination moved in a much different direction from this body and, ultimately, the teachings of Jesus. We have always and will continue to express, as part of our culture, "In Essentials Unity, In Non-Essentials Liberty, In All Things Charity (love)." There had already been tension when the Disciples continued to drift farther from the local congregation in non-essentials, but the denomination was affirming the wrong kind of "diversity" and broke from biblical essentials. They claimed that Jesus was not the only way to salvation, and anyone who said He was, was ethically and morally wrong.
One of our Elders, Tom Lewis, wrote the following as the number one reason the Board recommended that the church leave the denomination.
1) Salvation through Jesus Christ alone. The denomination at the recent General Assembly in Portland passed a resolution (0519), which made the "white paper" (0518) on Interreligious Engagement an official "document for teaching and study." Paragraph 13 of report 0519 states, "We affirm that it is morally, ethically and spiritually wrong for any person, group or religion to claim exclusive access to God, God's love, grace or salvation." Our denomination is stating that it is morally and spiritually wrong to assert that Jesus is the only way to salvation. This overlooks a fundamentally important point: We are not the ones who assert that Jesus is the only way. Jesus himself made that assertion in John 14:6, "I am the way, the truth, and the life; no one comes to the Father except through Me."
Since parting ways, the Disciples have continued to drift further on essentials and, obviously, further from us. If you google "What denomination is First Christian Church," Google informs the internet user that they are Disciples of Christ and links to a Wikipedia article. The FIRST doctrinal issue that is apparent includes accepting active LGBTQ individuals, not just as attendees, but as members, and further reading and links take this further into ordaining active homosexuals as pastors. I love people. I love people who think differently than I do; I love people who have different struggles than I do, and I don't pretend to be perfect (sinless) myself. Because I love them, I must continue to stand firm that sex was always intended by our Maker exclusively for married individuals, and that God made us male and female, and the parts obviously fit together. No name calling, no hate, but a love that wants the best for them.
The Disciples have embraced a theology even more troubling than their loose standards on who to ordain and who to recognize as members in good standing but have attempted to water down the gospel itself. As Tom points out in the quote above, it's not just the traditional Christian who says that Jesus is the only way to Heaven, it's JESUS himself!
While it may be tempting to think that simply splitting from the denomination protects us from a negative image, it hasn't. One common thought is that our website should clarify our beliefs. Pro Church Tools Daily, the same group who makes the software for our new website, has researched local search habits for churches through various pollsters and data collection sites. Most local individuals now "google it," even when looking for data about churches. Simply googling our church's name can lead to things we don't believe in, and in fact are the exact opposite of what we believe. Simply stating our differences on our website isn't enough, as potential visitors may not make it to our site and may even carry preconceived notions about the name before reading what we believe.
Our name, "First Christian Church," kept Joe Englebrecht, now one of our elders and our Organic Outreach Influence Team leader, out of this church for years, as he thought we were still with the Disciples denomination. Mike shared with me his concerns when I arrived and shared about phone conversations where callers were confused about who we are; I have received a few of those calls, as well.
At Mike's last Elder Council meeting, and my first, he introduced a name change to the church leadership. He felt strongly about the issue. It had been talked about on and off for years, but now was an obvious time of transition. The Council was on board. One moving testimony that impacted everyone was how Lee Strobel instantly thought that we were associated with Disciples of Christ.
Over the past few months, we have done further research and engaged in much prayer. We have discovered that other churches have gone through a name change with some success. I floated the idea past personal mentors and other pastors as I requested prayer. We, the Elders, wanted to recognize our 160-year-plus history, so the phrase "Christian Church" had to remain as part of the name in some way. "First" also causes frequent confusion with other local churches. We learned that there is a "Doing Business As" (DBA) option that would allow us to maintain our history as "First Christian Church" but have a "nickname," of sorts. Disciples Heritage Fellowship, to which we belong and which we have financially supported, uses a DBA themselves, and other churches that are a part of that network, who also came out of Disciples of Christ, also have used DBAs to distance themselves from the denomination and its newer beliefs. While Pro Church Tools recommended avoiding acronyms, maintaining the "F" as the first letter of a new name would allow us to keep our website URL and other similarly branded items. We didn't want a name that would blend in easily with other names, so "Faith," was out, as it is a very common church name. Originally, the intent was to open it up for suggestions, but with the narrow margin of error, when God arranged a suggestion, the whole Elder Council unanimously supported it. It started with an "F," was unique, spoke to our history, and could work as a DBA, keeping First Christian Church as our official name, fitting in well with our website URL, and yet didn't have non-biblical associations.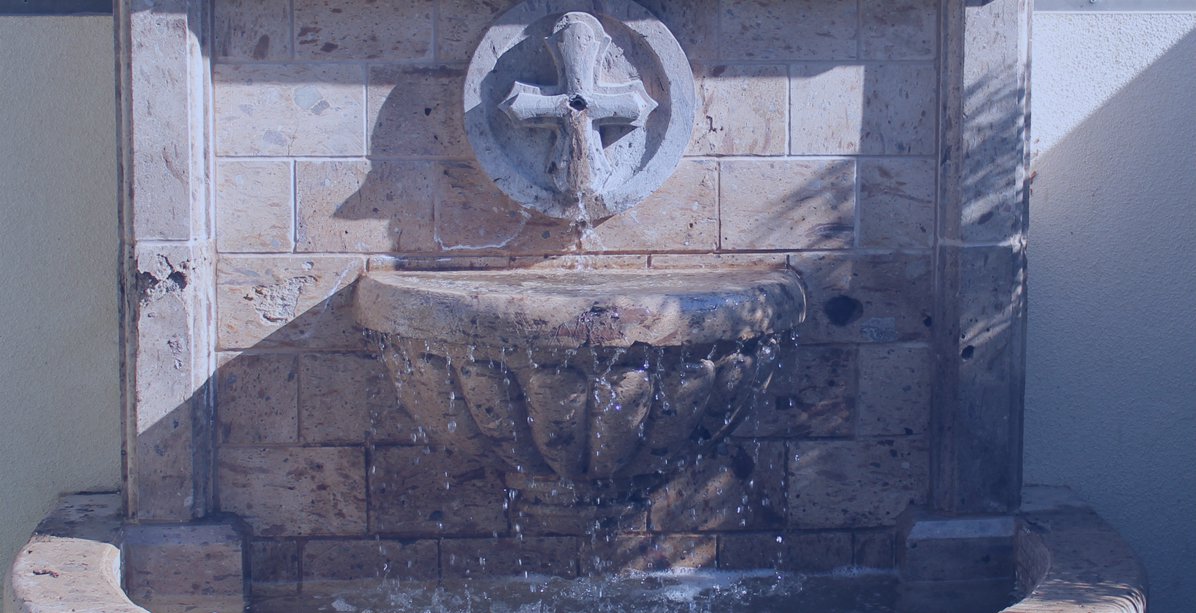 Jeremiah 2:13 says this, "For My people have committed two evils: They have forsaken Me, the fountain of living waters, To hew for themselves cisterns, Broken cisterns that can hold no water." (NASB) God calls himself the Fountain of living waters. Proverbs 14:27 says that "The fear of the LORD is a fountain of life," and we want to demonstrate biblical reverence for God. Proverbs 10:11 says that, "The mouth of the righteous is a fountain of life." We can be that mouth piece. Proverbs 13:14 says that, "The teaching of the wise is a fountain of life," and Proverbs 16:22 says, "Understanding is a fountain of life to one who has it." We want to continue to disciple in the biblical sense, to teach and train others in biblical knowledge and wisdom for the Glory of God and their own benefit. As I said several weeks ago, if Jesus is the living water, and that water flows through us, we get to be the fountain! We get to be the body of Christ, and serve him as a source of living water, of life, in this spiritually dry place.
This year at the congregational meeting, the Elders are recommending that you vote to affirm a DBA type of name change to "The Fountain" aka "Fountain Christian Church." We will still legally be "First Christian Church," while our website will still be at fccvisalia.org, it will be headlined "Fountain." During announcements, I will say, "Welcome to the Fountain," and as a church we will be asking people, all people, to come to the fountain, the fountain of living waters. We will be the body of Christ, but we want them to come to Christ himself, and we want to be a force of spiritual change, spiritual refreshing in this community.
We don't do this lightly. Much prayer has been put into it, and we are coming to you with this because it must be something that we agree to do together. We are on this journey of learning from God and serving him together, and this is a significant moment for us. I wrote this far-lengthier-than- normal article to let you know my heart in the matter. This isn't the new pastor pushing new ideas. This is just the next step in a path we have already been on. This isn't my idea, or Mike's, or the Elder Council's. I am convinced that this is an idea born from God, one I have no problem admitting I did not see coming when I accepted the opportunity to serve you and serve God and our community with you. A name change does not reflect a doctrinal change. You know me, or, at least, you are getting to know me. You know I'm a staunch defender of the essentials, and that I've literally debated members of other religions and gone to the frontlines of the culture wars on a college campus to make a case for Christ. You know that I love teaching into the meat of the word. What this is, is an opportunity to remove confusion, to be transparent with others to, "conduct yourselves with wisdom toward outsiders, making the most of the opportunity." (Col. 4:5)
I'm so blessed to be working with you and have loved watching enthusiasm and passion for service rise. I know God is working and I'm exciting to see what He is doing. If you have any questions, you know I have an open-door policy, but you can also e-mail me or call me. 937-825-2878.
God has blessed us. May we bless Him and others in response.
-Sam
Originally printed in the January 2019 FCC Newsletter