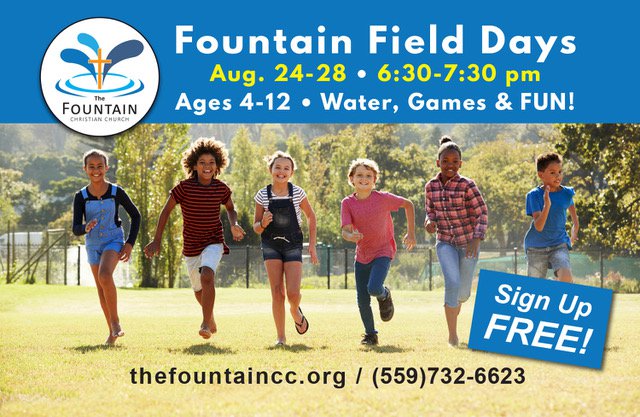 Update: Due to dangerously poor air quality and a health warning issued for Tulare county, we have delayed Fountain Field Days until September 14th.
Instead of offering a traditional Vacation Bible School this year, we will be offering a FREE OUTDOOR program called FOUNTAIN FIELD DAYS. There are limited spots, and measures to keep each child safe, but we would love to have you if you are healthy, not in the most at risk category, and desiring for your kids to enjoy some outdoor play time and bible lessons.
First things first, We want to share with our safety measures:
Saftey Measures
We are limiting activities to 40 child participants.
There will be 4 separate groups of field day participants.
We will be outdoors in our field, with large space to social distance.
Upon check in each child will have their temperature taken.
Games will involve distance from one another, like water balloon tosses, and relay races were students don't actually touch.
Snacks will be all prepackaged.
We will use our check in and check out system with printed name tags.
Children age 4 through 12 are welcome to join us each night for field day fun and faith building lessons! We will offer a different theme and new exciting experiences each session. Each night there are snacks provided and group game time, so please fill out the necessary information below, including allergies, and health conditions so that we can ensure your child's safety. We will need a separate form filled out for each child you wish to participate. Registration is FREE! We hope to see you there!