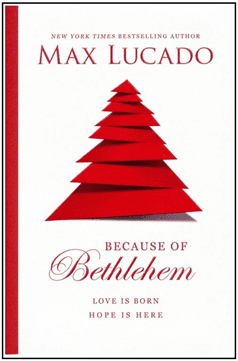 Please join us as we pray, fellowship & delve into various Bible topics over the next couple of months.
All ladies are welcome to join the Monday afternoon Bible Study!
Leaders: Judy Jameson & Ann Johnson
Location: FCC Fireside Room (Off North Parking Lot)
Time 12:00 pm - 1:30pm
Special Advent Study Invitation November 29th and December 6th
Start Advent this year with Max Lucado. During two Monday sessions we will see his complete, four video series, "Because of Bethlehem."
Please invite friends! Meet promptly in the Sanctuary at 12 PM. We will hand out some Christmas information for you to share and have a drawing for some beautiful plants at both sessions to give to someone who was not able to join us. An offering will be collected for our Local Outreach Fund
Study books have been graciously donated, we will have them available either on Monday November 15th, at church anytime before Nov 29th and at each session. Any money donated for a book will go to the local outreach fund.
We are hoping this Christmas we may finally be able to be with family! No matter what our circumstances may be, the Promise of Christmas brings us
eternal Hope.
Love is born.
Hope is here.